Testimonials
October 2, 2013
Mr. Ryan Reichardt
Reichardt Construction
159 Madison Ave.
Cat Spring, TX 78933
Dear Ryan:
We just wanted you to know how much we have enjoyed working with you in constructing our new home. Your attention to detail, ability to listen and inherently know what we want, knowledge of construction as a whole, and ability to envision the final product made the process an enjoyable experience. While all construction has its bumps and bruises, you were able to smooth it out and make it work resulting in a beautiful, well-built, and functional house. All of your subcontractors and Reichardt employees were professional, knowledgeable, polite, and accommodating. When we showed pictures of the process to friends and family, they were impressed not only with the beauty, but also with the craftsmanship. Above all, we feel that we are living in a dream house that is sturdy, yet beautiful.
We are so thankful that we decided to hire Reichardt Construction as our contractor and will recommend you to any interested party. You pride yourself and your company in keeping your word, which is a fresh concept these days. You stake your reputation on that fact and that is hard to find in today's world.
Thank you again and keep up the great work!
Sincerely,
Jim & Janice Wietstruck
###
Click for PDF version of above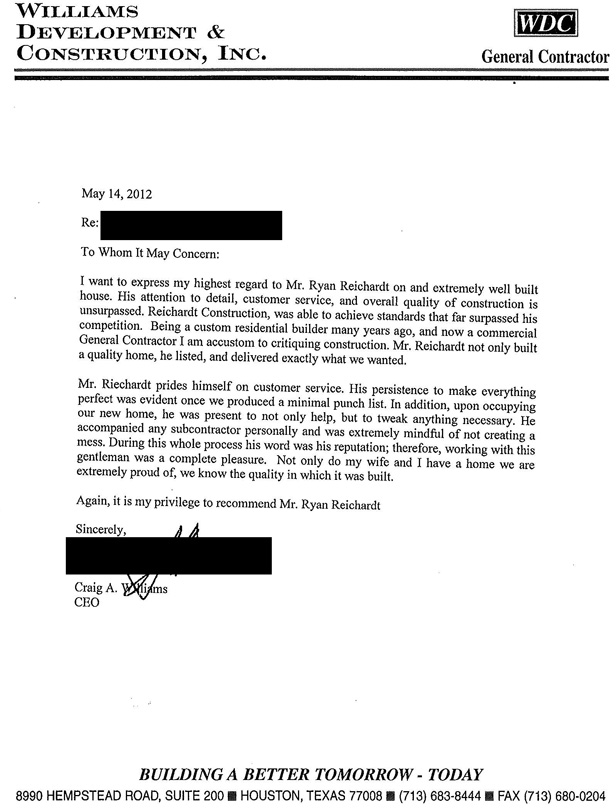 ---
January 28, 2012
Reichardt Construction LLC
154 Madison Ave
Cat Spring, Texas 78933
RE: text removed for privacy purposes.
Well we can finally see that there may be light at the end of this Barn-darninium. There are a lot
of things that have changed since we started this effort. We owe a lot of gratitude to you and your
people for getting it as far as we have.
I am not that deep in the knowledge of construction but I know more than the basics. Most of the
accolades in this note come from one crew or the other that have been on site to perform the many
different steps along the way.
Like all good projects you have to have a good base and it appears that the site work Reichardt
Construction (RC) did with the using the stabilizer in the soil you brought in was a great move
whicli made the slab-work really, really, really well.
When your slab crew tinished out the slab they did a fantastic job. The floor installer for tile
and wood flooring was completely amazed at how level the entire slab was having found only one area
that was not flat (less than a 1/4 inch high in just one place more than 3 square feet). Which
reduced the time and effort to prep the floor for tile and wood.
Like wise the floor man gave good remarks as to how the framing crew had kept the placement and
alignments of the walls, square. This prevented the flooring from having drifts as it was installed
and gave everything a square look.
The sheet rockers seconded the comments about the framing crew who admitted that their job had been
simpler due to the walls being plumb and the corners square. This, was instrumental when your trim
guys came in for the doors, windows and cabinetry installation for the kitchen and baths.
While on your trim people, I have had more compliments on the stairway in my storage area to access
my attic area. I have no fear at all when carrying things up or down those stairs. They did not do
a great job they did a stupendous job. Thanks for having them available.
Ryan your knowledge of the residence construction whether it be on a grand scale or my scale is
very well rounded. It not only grounded in common practices but innovative ideas as well. Your
patience is to be commended. Your guidance is un-assumingly un-matched as far as I am concerned.
You are like a successful baseball manager. You know talent and you have surrounded yourselfwith
winners. You don't have to pitch, hit or catch to have a winner.
Thanks for being around and sharing yourself and your team.
Richard & Linda Clayton text removed for privacy purposes.
---
7-Aug-2006
Ryan Reichardt
KR Home Builders*
159 Madison Ave.
Cat Spring, TX 78933

Dear Ryan:

Susan and I wanted to express our thanks for your management of our cabin construction
project in Columbus, Texas. After initially meeting you and speaking with your former
clients, we felt confident that you had the ability and the passion to oversee the building
of our "getaway cabin".

During the past months, our dreams have turned to reality. You helped us refine our
building plans, resulting in much-improved bathrooms and a fantastic kitchen! The
actual construction project went smoothly, and you made sure to let us know of any
problems or delays (just like I asked you to).

I appreciated that you had high standards for craftsmanship and even had guys re-do their
work if necessary. Since Susan and I are detail-oriented, your attention to the little things
made us happy.

As you know, we moved in this past weekend. This was the target date we had worked
towards, and everything was done, save the occasional item for a punch list. We have
seen the project go from sketches/specifications to stacks of building materials, and now
all the way to a finished second home.

Please accept our thanks for your dedication and professionalism. Feel free to pass along
our comments to potential clients as they begin the exciting stages of a building project. I
would also be happy to discuss our experience with KR Home Builders*. I can be reached
by phone at text removed for privacy or by email at text removed for privacy. Sentence Removed for Privacy.

Sincerely,
Rodney Walther
*Reichardt Construction, LLC. DBA KR Home Builders